ABOUT ME
I'm awesome. See how it doesn't rain on me when I walk down the street in a storm? That's cause I sold my soul to the devil.
Previous Posts
Tasty's First Haircut...
That's MY Mama...
It's either this or infomercials....
Things that make you go.... hmmmm
It's been a long time. I shouldn't have left you.....
Bad Breath
Nature's own Velveeta!
Watkins Glen State Park
Sleep-Away Camp...
The Fort Lauderdale Diet...

Archives
October 2004
November 2004
December 2004
January 2005
February 2005
March 2005
April 2005
May 2005
June 2005
July 2005
September 2005
October 2005
November 2005
December 2005
January 2006
February 2006
March 2006
April 2006
May 2006
September 2006
October 2006
November 2006
November 2007

Sumthin' fo the Heathens...
That time of the year is around the corner and instead of sending out cards, I'm letting you all know of a certain special event out there....

JESUS JAM 2005!!!



ONE NIGHT ONLY!


DECEMBER 25th......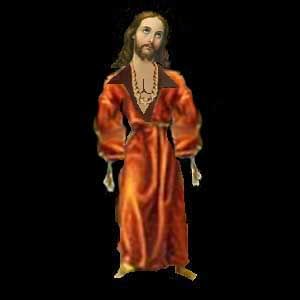 Can you Smeeellllllll what the MESSIAH IS COOKIN?!??!


I bet you can! The ORIGINAL maker of the Communion wafer and wine is gonna put the prayer smackdown on all y'all beleivers...


Special Guest includes only the biggest posse to on stage with Jesus

EVER

... The 12 APOSTLES.




AND

straight outta the Heavens is Mother Mary, the baddest immaculate

conceiving chick out there, with a show stopping entrance right out of

the sky, with stage FX only

GOD

can make!
BE THERE! JESUS JAM '05...AMEN!
(My brother says i'm going to hell for this one)
Posted by TastyKeish at
9:42 PM
3 comments
3 Comments:
That is too funny.

When I was in tenth grade I would wake up to Larry Josephson on BAI; only he would never be there to start the show at 7; I would miss the bus and have to wake one of my parents to take me to school

Loved that station when I was a hippie!

Good luck; merde; break a leg--that is sooooooo great. I will listen
Robin Williams Live on Broadway-
Mary and Joe chatting one night (in the voices of the Honeymooners)

"Joe I'm pregnant"
"Sweet mother of God!"
"You're right!"
"Jesus H Christ!"
"Oh Joe! Great name!"
"How?"
"It was immaculate conception."
"Oh it better be immaculate!"
you not going to hell if you were then the catholic church will be in hell hosting Lucifer in concert

BigSleeveless
Blogroll
No blogroll yet, but it's on its way!