Heartbroken....can someone fix it?
Posted by TastyKeish at
10:54 PM
0 comments
No two snowflakes are alike...
As I walk the Earth, I happen upon little gems like the one below.
Everyday, I see this homage to winter everyday at work (I work at a school) and one day I noticed that Hip Hop has infiltrated this picture perfect white Christmas.
Look close....
Closer....
BAM! Read the caption at child has included in the classes' collage....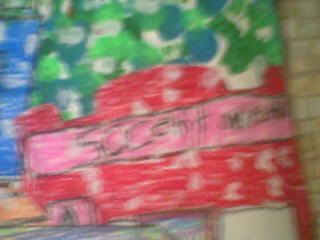 "50 Cent owns this"
(pic was taken by my camera phone, hence the blur)
Thank God
Roots
is coming on next month, cause this kid needs to learn something.
Posted by TastyKeish at
2:57 AM
1 comments
Not in a good mood these days...
Posted by TastyKeish at
9:13 PM
0 comments
Drunkards Gallery I
One thing I always seem to notice where ever I go is drunk people.
At one point or another we have all been drunk.
You get that look, you're center of gravity is totally non-existant, and you don't know what the hell is going on.

And thats okay.

This is my ode to the inebriated, a gallery to celebrate the very thing that people do to become confident, to quell fears, to be humorous, to escape everyday life...This is,

The Frenchman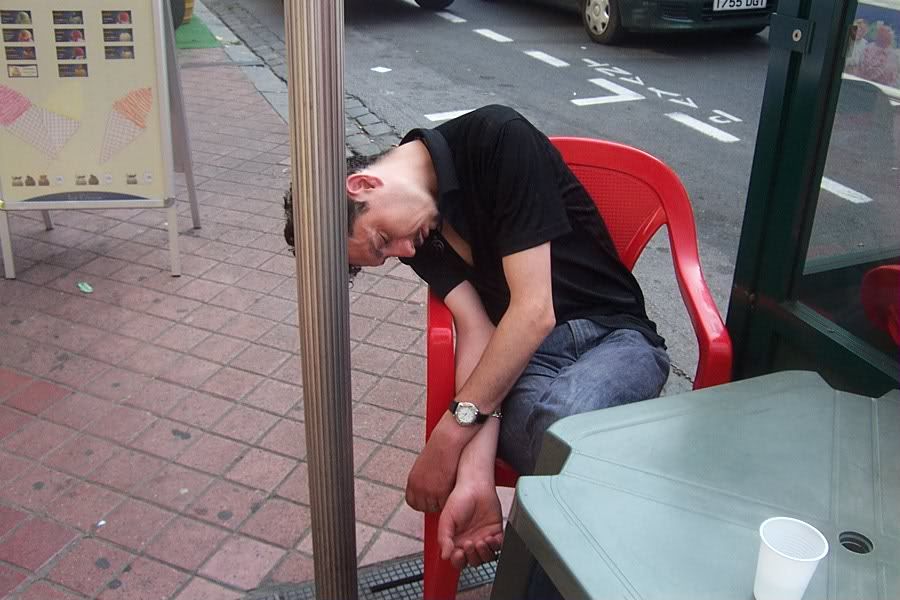 I
met
this gentleman during my journey to Calle, France last summer.
I really just wanted an authentic French meal, perhaps we should have split a bottle of whatever he was drinking. Because the meal wasn't that great.
The Penn Station Girls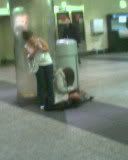 Apparently, these young ladies didn't realize how ambitious they were in looking for fun.
I could tell just by seeing the one on the left swallow back her vomit that they had a great time!
I watched these girls for about an hour while I waited on my train. There was spontaneous crying and hugging strangers, and nearly falling.
The only thing to remind them of the night before is the huge vomit stain on her jacket.
Volume II coming soon....Cheers!
Posted by TastyKeish at
7:46 PM
4 comments
How We Spent the last week of 2005...A Photo Review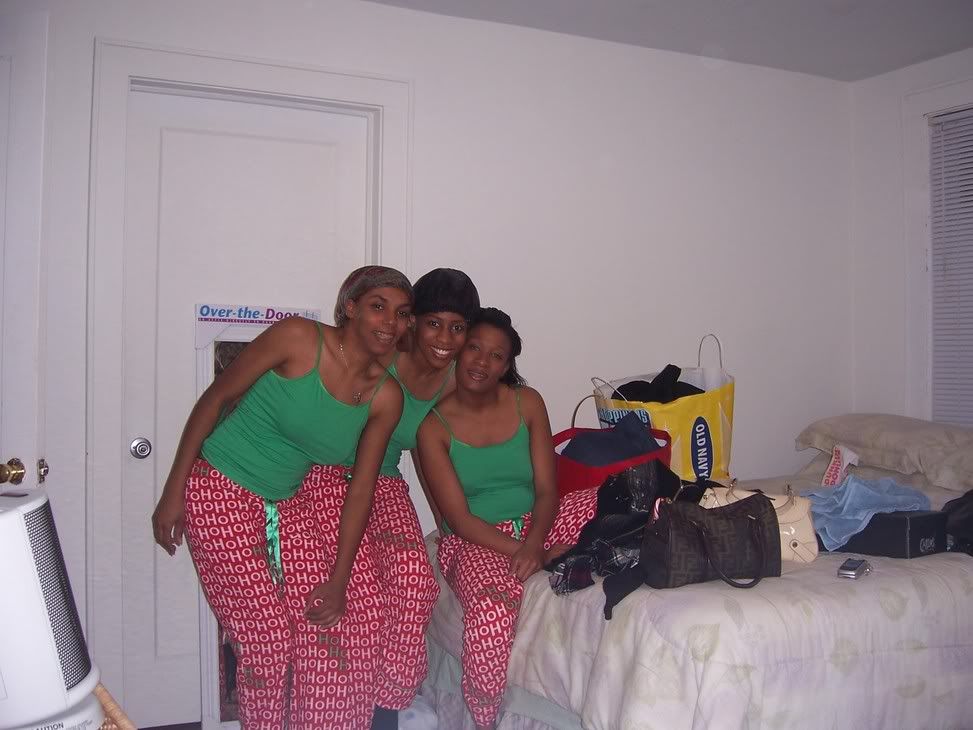 Happy Holidays From the HO, HO, HO's!
As agents we REALLY do wear the same pajama's even when were NOT together. Strange but true....in all those bags are matching outfits! Serious.
On the Wednesday after Christmas, the Agents and I capped off a day of shopping with an attempt to goto a club in New Jersey. Take a good look at the shoes I'm wearing.....Now picture me (and the agents) online for an hour to get into this place....By then I was salivating at the thought of the 24hr Crown Fried Chicken across the street. I damn near took off the shoes and ran there afterwards....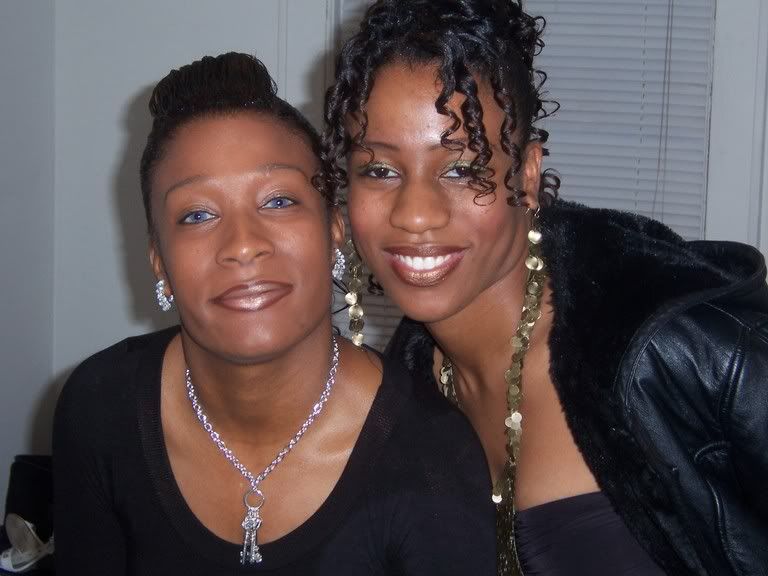 You may not recognize the face on your left. That's Agent 82! 82 is well into her coursework in All Night Escapades 101 taught by Agent 80 (on the right) and myself. Keep up the good work! You're making up for the D you got when you party pooped in Atlantic City....but we won't go there.
On Friday night, Agent 80, Big D- The Weathergirl, G, and I went to Jay-Z's 40/40 club. It was soon a toss up between Big D- The Weathergirl and Agent 80 on who was pimpin the most....I say it was a tie! G was just chillin in the cut, acting like he didn't know us...That's cool. He can't be messin' with my pimp game. WORD!
Myself, Tastykeish aka Agent 81...Como se dice
"getting my groove on"
?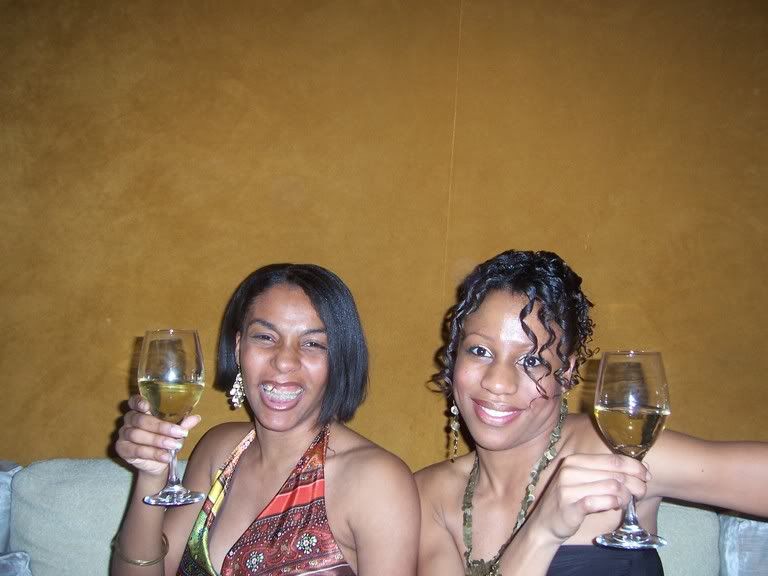 Nothing like alil Jesus Juice to get the party started! AMEN!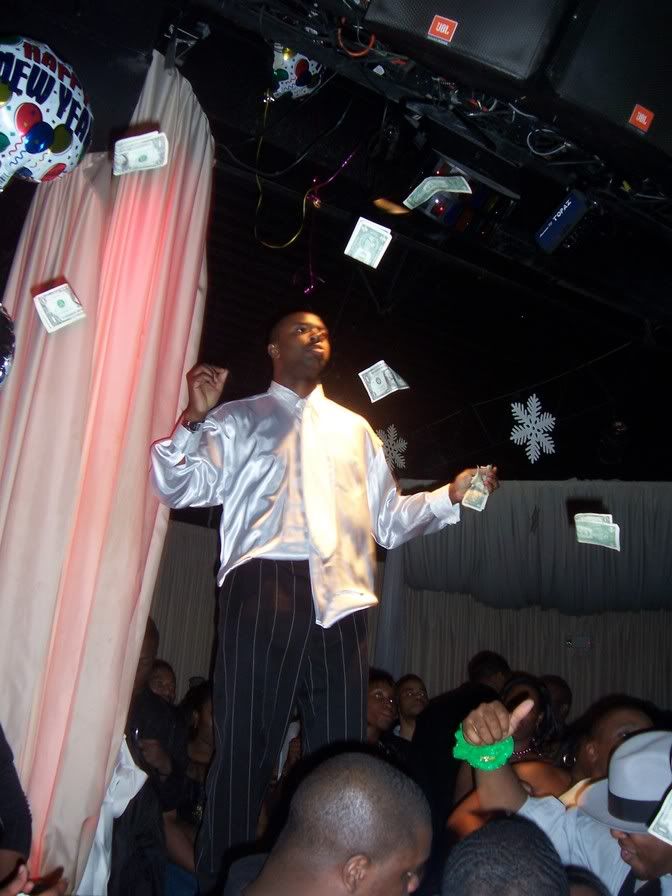 5, 4, 3, 2, 1...HAPPY NEW YEAR!
Thanks to this dumbass I pocketed 2 dollars and Agent 80 got 4 dollars. Which we promptly spent on a tacos the next day...
The same guy and this girl who soon after this moment has a
Janet Jackson-like wardrobe malfunction
on stage. It's always the one damn time the camera isn't on!!
My last look for 2005.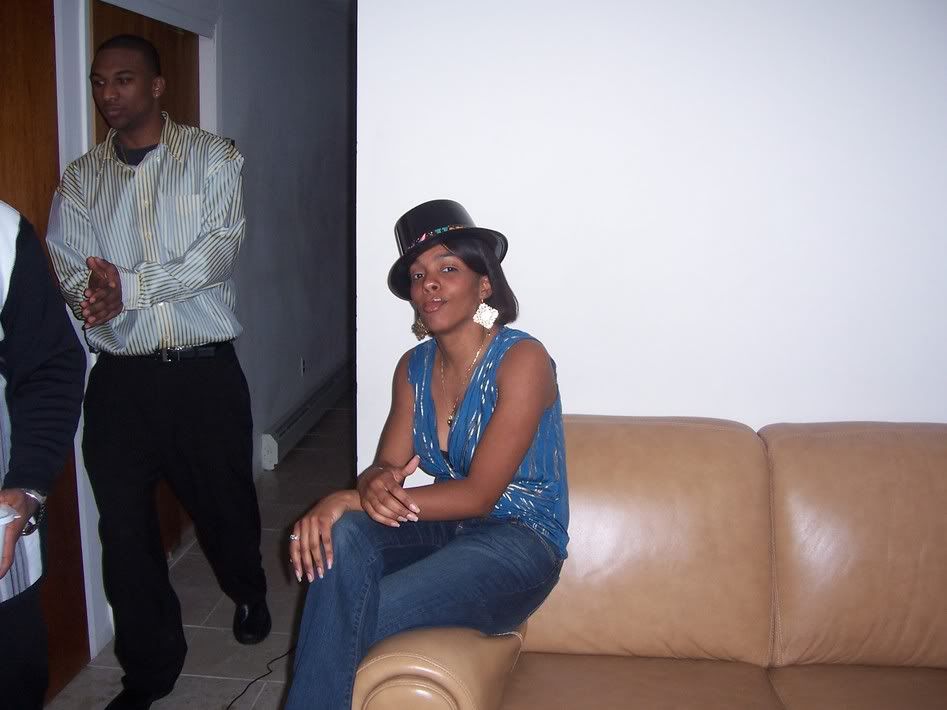 Pimpin' ain't easy... It's just not hard for me...
Make everyday count!
Love,
your friendly neigborhood Agents 80, 81, 82.
Posted by TastyKeish at
3:37 AM
3 comments
Blogroll
No blogroll yet, but it's on its way!