ABOUT ME
I'm awesome. See how it doesn't rain on me when I walk down the street in a storm? That's cause I sold my soul to the devil.
Previous Posts
Not in a good mood these days...
Drunkards Gallery I
How We Spent the last week of 2005...A Photo Revie...
Happy New Year for now...
Welcome to my world....
A bit of Logic.....
Turn it UP!!
Untitled...
Sumthin' fo the Heathens...
Tasty's First Haircut...

Archives
October 2004
November 2004
December 2004
January 2005
February 2005
March 2005
April 2005
May 2005
June 2005
July 2005
September 2005
October 2005
November 2005
December 2005
January 2006
February 2006
March 2006
April 2006
May 2006
September 2006
October 2006
November 2006
November 2007

No two snowflakes are alike...
As I walk the Earth, I happen upon little gems like the one below.
Everyday, I see this homage to winter everyday at work (I work at a school) and one day I noticed that Hip Hop has infiltrated this picture perfect white Christmas.
Look close....
Closer....
BAM! Read the caption at child has included in the classes' collage....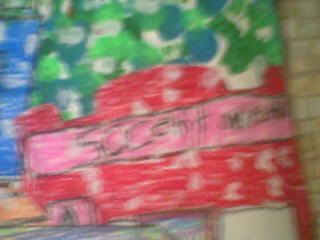 "50 Cent owns this"
(pic was taken by my camera phone, hence the blur)
Thank God
Roots
is coming on next month, cause this kid needs to learn something.
Posted by TastyKeish at
2:57 AM
1 comments
1 Comments:
Agent 81 LOL DAM only u would spot that.
Agent 82
Blogroll
No blogroll yet, but it's on its way!